September 17, 2022
MissouriCon!
Hey all.  A week from today, September 24th, I will be have a booth set up at Missouricon in downtown Saint Louis.  Missouricon will be from 9:30am-5:30pm.  Swing by and show some love if you're in the area and free : )
– Row K. Sky
May 29, 2022
OFFICIAL Launch!
Hey everyone, tomorrow's the big day! I am pretty excited, but also a little nervous. But for real, for real. I am glad you are here! Here are some things you will need to know.
One, there are a lot of things for free on here, but without your support it is extremely hard to produce The Jet Saga. Your support is invaluable.
Two, the best way you can show your support is to read the content and pass it along for exposure!  If you want to consider purchasing an individual issue or giving a donation along the way, be like Nike and just do it : )
Once again, thank you so much for your support and enjoy the rest of the site!
– Row K. Sky
May 11, 2022
Dr. Strange  and the Multiverse of Madness
Yo, so this is the first post on here.  The website hasn't been officially launched so this will be in the backlog.  If you're the type of person who skims backs and reads these or got a hold of this in advance, you're a real one : )  Below I want to tell you about my experience of getting to see the new Dr. Strange Multiverse of Madness.  Be warned, below are spoiler's. If you haven't seen the movie yet, maybe skip this post and come back to it when you've seen the movie!
So first of all, I just want to say, it was legit.  I loved how different the tone was from the other MCU movies.  It had this whole horror vibe going for it. I loved Elizabeth Olson in it.  Honestly before seeing her introduced in the Marvel franchise I hadn't followed her career.  I have so much respect for her because I think she wants her acting to speak for itself, rather then being known for being the younger sister of Mary and Kate Olson.  This movie really showed her chops in acting as she played two extremely different versions of Wanda Maximus.
Some other things I loved about the film are Benedict Cumberbatch (that guy is just awesome), the introduction of America Chavez, and the reveal of the Ilumminati.  I'm a chill guy but I had silent gasps of wonder when I saw that they had cast John Krasinki as Reed Richards.  I mean like yooo : O.  Sooo awesome.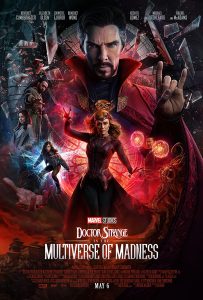 Anyway, we are getting pretty close to the launch.  Can't wait guys.